< Go to NismoTronic Software
Settings
---
Logging Settings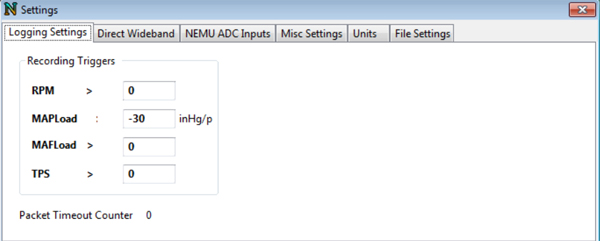 Recording Triggers - The software will only record the current log values IF ALL of the current log values are greater or equal to the values entered here.
Packet timeout counter is for diagnostic purposes
---
Direct Wideband Settings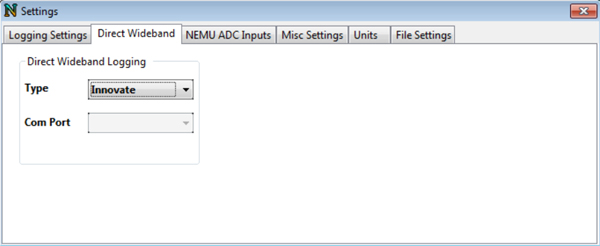 Direct wideband logging is the most accurate form of collecting data from a wideband controller but is not a permanent connection as it can only be logged when your laptop is in the car
Supported Direct Wideband Types
Innovate Products (LC1,LM1/LM2, MTX-L)
SLC PurePlus
AEM UEGO
PLX iMFD
---
ADC Inputs
NismoTronic allows logging of any linear 0-5 volt sensor through any of the 4 available ADC inputs on the NEMU
See the ADC Setup Page for more details!
---
Misc Settings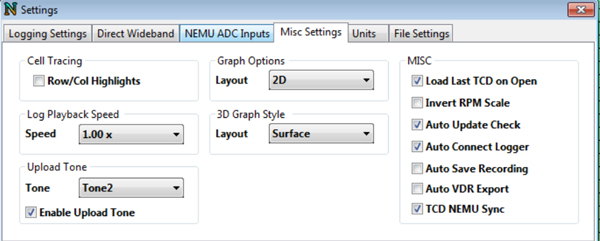 Row/Col Highlights - Will highlight the index of the row/column that is currently selected on the main fuel and ignition tables
Log Playback Speed - This option changes the playback speed of the log when in log review mode.
Upload Tone - You can select your desired confirmation tone that is played after a succesful upload to the NEMU. This can be enabled/disabled by the checkbox
Graph Layout - Allows the graph to be displayed in either 2d or 3d mode. If the table is 2d it will display in 2d mode even if 3d is selected.
3d Graph Style - Selects either surface or wire frame mode for the 3d graph
Load Last TCD on Open - Automatically loads your last opened TCD from your previous session
Invert RPM Scale - Inverts the RPM scales on the main fuel and ignition tables
Auto Update Check - Checks for the most recent version of the software when the software boots up
Auto Connect Logger - Connects and starts logging when the NEMU is connected
Auto Save Recording - Automatically saves your recorded log when you hit the "Stop Record" button.
Auto VDR Export - Exports your CSV log to Virtual Dyno when you save a CSV log file
TCD NEMU Sync - Checks NEMU contents against your currently opened TCD and allows you to either upload your TCD to the NEMU or download from the NEMU to a TCD
---
Units
---
File Settings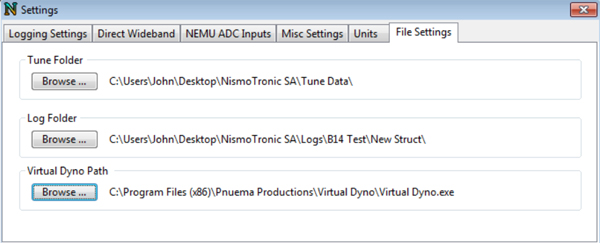 Tune Folder - Stores your current Folder to Open/Save your tune files
Log Folder - Stores your current Folder to Open/Save your log files
Virtual Dyno Path - Stores your current path to Virtual Dyno
< Go to NismoTronic Software